Meet Dr. Scott Feldenheimer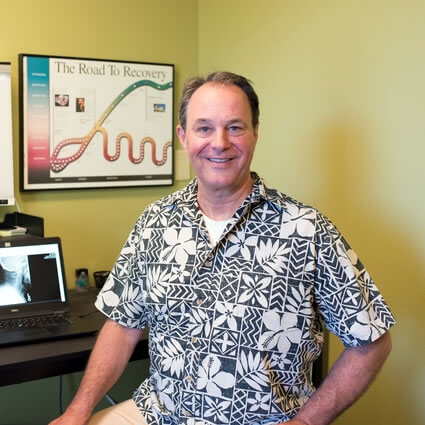 Before moving to Bend, Oregon in 1991, Dr. Scott worked for a landscaping company. One day he hoisted a lawnmower into the back of a truck. Although he didn't experience any discomfort at that moment, when he woke up the next morning, he was in the most excruciating pain that he had ever experienced in his life. The pain was so severe that he was unable to get out of bed.
Nothing Helped Until Chiropractic
After taking prescribed medication and having physical therapy nothing improved for Dr. Scott. He also saw a neurologist and an orthopedic surgeon and still didn't get answers. Dr. Scott put up with his pain for about three months.
The pain started to put him in a depressed state as he thought he would have to deal with it for life. "My father suggested that I see his chiropractor in the Bay Area; the chiropractor, Dr. Nicholas Athens, was the official chiropractor for the San Francisco Giants and the 49ers at the time."
Dr. Scott remembers going to his office feeling somewhat despondent because he figured that Dr. Athens would be yet another practitioner who would be unable to help him. After Dr. Athens' assistant did a full exam and took X-rays he pointed to the X-ray and said to Dr. Scott, "There's your problem right there."
Dr. Scott responded, "What are you talking about? I've been to all the so-called experts and nobody could figure it out. How are you able to help me? Dr. Athens replied, "We look at things more from a biomechanical standpoint, as opposed to a pathological standpoint."
Dr. Athens explained what a subluxation is and then adjusted Dr. Scott, who recalls getting a huge release that brought him to tears as it was the first time in three months that he got any relief at all.
"In my eyes, it was a miracle that this one procedure could make me feel that much better."
Two Dreams That Sealed the Deal
As Dr. Scott adhered to his treatment he kept getting better and better. He moved to Bend to work in landscaping for $6.80 an hour. Realizing that the back-breaking work was going to eventually destroy his body he knew he needed to make a change.
So he hopped on a plane to visit his mother in Mexico where she was living at the time and the first night there he had a dream that he was a chiropractor. "I thought that was bizarre as I had no desire to get into the medical field."
The next night, Dr. Scott had the same dream. He was standing above a patient on an adjusting table. "I thought that if this isn't a calling I don't know what is."
That night Dr. Scott went to dinner with his mother and said, "You know what? I really want to be a chiropractor and I'm going back to school."
Chiropractic Education
Dr. Scott attended the University of Western States in Portland and earned his Doctor of Chiropractic. A significant take away from his time in chiropractic college was being able to help people anywhere in the world with just his hands. He also found that working with cadavers was fascinating. "It was astonishing to see how intricate the human body is."
In addition to his doctorate, Dr. Scott also possesses two degrees: one in clinical psychology and another in environmental studies/city planning.
EXPLORE OUR SERVICES
At Home in Our Outdoor Lovers' Paradise
Dr. Scott first discovered our beautiful city when a former girlfriend spent time there while traveling throughout the Pacific Northwest one summer. "She came across Bend and the gorgeous beauty that surrounds us." He found out that there's everything imaginable to do outdoors here, from kayaking and mountain biking to fly fishing and paddling.
At the time, Dr. Scott was still completing his second degree and the girlfriend told him she was moving there. He decided to drive up and check it out. For Dr. Scott, it was unlike any place he'd lived in his life and it just felt like home. It still does to this day.
Nourishing the Mind & Body
When he's not caring for patients' spines, Dr. Scott loves to read peer-reviewed journals, novels and news. He's also a self-described "news junkie" who likes to keep up on what's going on in the world. Camping and stand-up paddle boarding are other favorite activities but his greatest passion is mountain biking. "I ride four days a week and love to be able to be on some of the best single track, mountain biking trails in the world."
Dr. Scott also enjoys taking a stroll along the Deschutes River and spending time with his girlfriend.
Book an Appointment
Contact us today to schedule your first appointment with Dr. Scott!

Dr. Scott Feldenheimer | (541) 385-5900